Key Differences Between Assisted Living "Assistance" and Medical Services
Transitioning a loved one to a senior care community can be a daunting task. Many families feel that they are abandoning their loved one. They worry that the facility won't meet their senior's needs. But the right facility can improve quality of life for both the resident and their family.
Assisted living provides healthy seniors with a safe and supportive living environment. Many senior care centers also offer social activities, wellness programs, and other amenities. Family is reassured a loved one's needs are being met.
Often people struggle to determine whether assisted living is the right choice for their loved one. Assisted living is for seniors who need help with some activities of daily living (ADLs), but who do not need ongoing medical care.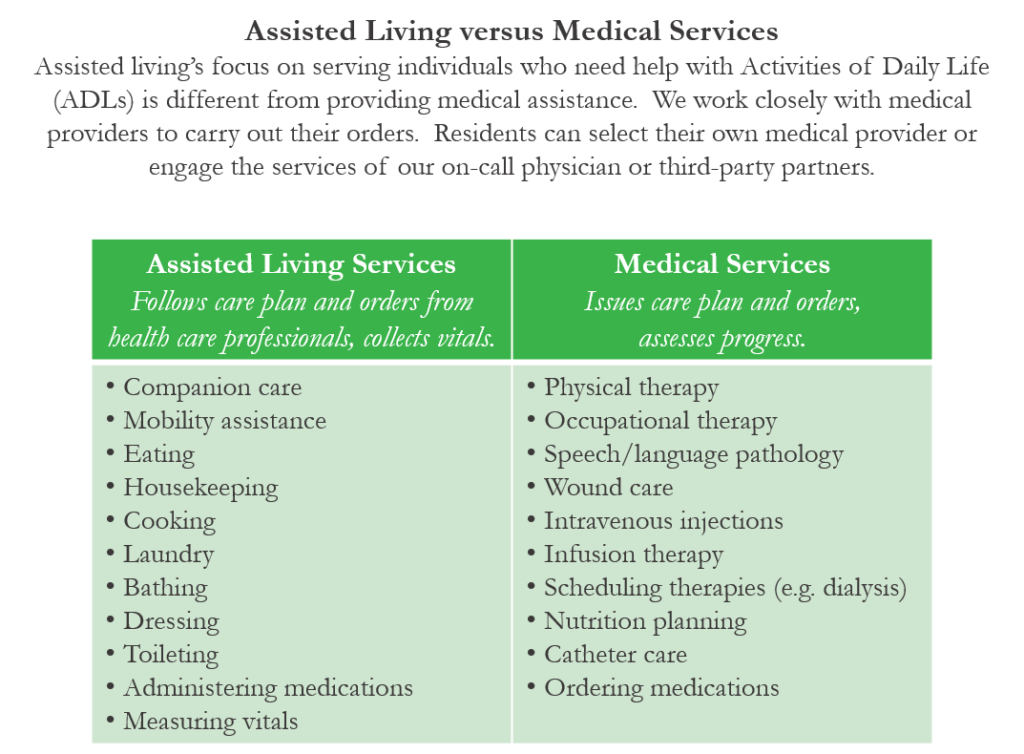 What Does Assisted Living Provide?
Assisted living can improve the quality of life for residents and their families. Assisted living provides support with basic daily tasks for seniors. The goal of assisted living is to help seniors remain as self-sufficient as possible.
Assisted living facilities offer residents the safety and security of 24-hour support. An emergency call system and dedicated staff provide 24-hour access to care. Seniors can maintain their independence without the fear of living alone.
ADLs
ADLs include getting up, getting dressed, hygiene, bathing, toileting, and medication management. As people age, these basic tasks become more difficult. Mobility or memory impairment can make it hard to complete daily tasks. Assisted living facilities are licensed to provide services to ensure senior safety. They focus on wellness and quality of life.
Assisted living facilities provide three meals a day according to specific dietary requirements. If a loved one is diabetic or on a heart-friendly diet, meals will meet those specifications. Meals are nutritionally balanced and satisfying to senior palates. Menu selections vary from day to day and meal to meal.
Assisted living facilities also provide housekeeping services. Routine cleaning services occur weekly, and emergency services are available. Laundry and linen service are also included.
Socialization
Assisted living provides opportunities for seniors to make social connections. Many facilities have vibrant activities calendars and recreational opportunities.
Common areas provide a place for friends to gather to do puzzles, watch television, or view movies. Clubs allow residents to continue their favorite hobbies like gardening and book groups. Opportunities for wellness often include gyms, walking trails, and fitness classes.
Transportation
Some assisted living facilities also provide transportation to off-site events and activities. Trips to shopping centers and entertainment venues offer weekly outings. Transportation may also be available for individual appointments, classes, and other errands.
Medication Management
Another important service offered by assisted living is medication management. Staff members help residents keep prescriptions up to date and conduct medication audits. They also ensure that seniors take their medication and offer education services.
Assisted living offers a safe living environment with help a few steps away. This allows seniors to maintain their independence for as long as possible.
What are Medical Services?
Should the need arise, assisted living can accommodate some medical services. But assisted living facilities cannot provide skilled nursing care.
Memory Care
Many assisted living facilities offer dedicated memory care programs for residents with Alzheimer's or other forms of dementia. Seniors in the early stages of memory decline often live among the regular resident population. As the condition advances, residents transition to the memory care section of the community. Specially trained staff members offer extra safety precautions. These programs are designed around routines that promote familiarity and reduce confusion and stress.
Basic Medical Services
Assisted living facilities usually offer medication management, medical record maintenance, and pharmacies. Emergency first aid is also available. Sugarbush Living partners with doctors and nurses to provide care to residents. These medical professionals are regularly onsite and available in case of emergency.
Supplementary Medical Services
Residents who need some advanced services may access them from assisted living. Home health aides and hospice both provide services in assisted living. Physical therapy (PT), occupational therapy (OT), and respiratory therapy are often available. Swallow evaluations and speech-language therapy can also be accommodated. And social services are available.
Assisted living residents can take advantage of many of these services from the comfort of their rooms. But these medical services are add-ons. They are not part of a basic assisted living contract and cost extra.
Advanced Medical Services
While seniors who need advanced medical care can stay in assisted living, wound care, dialysis, and intravenous treatments require additional skilled nursing services from partners. Seniors who are bedridden or wheelchair-bound may also require advanced medical care.
For additional information how to select the right senior care facility visit The Senior Care Landscape or learn more about What To Look For in an Assisted Living Provider.